High-Density Mobile Storage / Filing Systems
Businesses with hefty storage requirements are often fighting against square footage as their needs scale. From government offices to libraries to industrial parts suppliers, mass storage can be an issue.
At Office Furniture Eugene, we specialize in planning, sourcing, and installing storage and filing systems. Our wide variety of storage options can go vertical, horizontal, high-density, and even accommodate corners if need be. We also have mobile storage options so that frequently accessed files and documents can make their way around the office wherever they're needed. Proper storage for your needs can cut space requirements by 50% to 60%, and Office Furniture Eugene is here to help.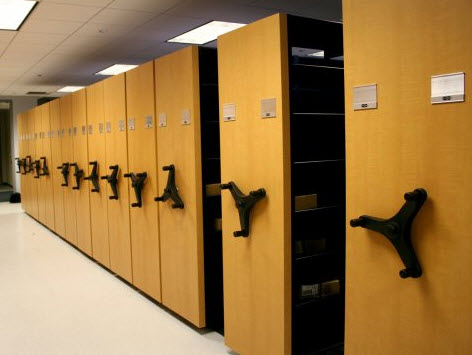 Not only are we equipped to plan and design these storage systems, but our unmatched access to hundreds of suppliers means we can source high-density storage systems for a wide variety of goods, including:
Library books
Industrial parts, large and small
Retail goods
File folders
Office supplies
Weapons and ammunition
Archival records
Art collections
Museum specimens
Athletic equipment
Evidence
Pharmaceuticals and hospital inventory
If it's time for a new storage solution at your place of work, contact Office Furniture Eugene to begin an assessment.
Moving Aisle Systems
One of the most efficient storage solutions is a moving aisle system. Moving aisle systems provide tons of storage space for small items. If you need to maximize your storage footprint, this is the system you want.
Moving aisle systems are low maintenance and can be configured with a variety of storage options. Shelving, drawers, plastic or wire bins, hangers, roll storage and more are all available.
But these systems aren't without considerations! The Office Furniture Eugene team is equipped to assess your space and determine a suitable storage system for your situation. For example, the floor of the space intended for the moving aisle storage system must be rated to hold the weight.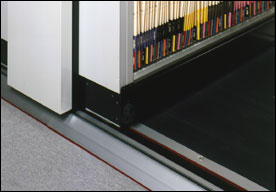 We're also ready to handle the nuances of high-density storage system installation. We may facilitate cutting channels into concrete, installing a steel deck directly onto the floor, or installing a wall-mounted guide system. In short, proper planning is required for safe and optimal installation of moving aisle systems. Trust Office Furniture Eugene to get the job done.
Our systems can include:
Modular components for design freedom
Heavy-duty quality for long life
Easy assembly and disassembly
More standard sizes and styles
Recycled steel content (40%) and a document-safe finishes without volatile organic compounds harmful to the environment
Custom design assistance
Putting these systems in the Pacific Northwest comes with its own set of requirements that we're very familiar with. Our installations will comply with local seismic building codes, anchorage and anti-tip specs and ADA requirements.
We can work directly with you, our client, or prime contractors for mobile aisle system installs in both new buildings and tenant improvements scenarios. We provide wet signature drawings and calculations required for permits when necessary, and our seismic engineering service team can assist in floor strengthening recommendations if installation is expected on upper floors or above a sub-building garage.
Installing mobile aisle systems and other high-density storage solutions is no small feat, so trust the experts at Office Furniture Eugene to get the job done right and fast. Contact us today to start your consultation.